Here's the deal. Each month we release a new issue of The Reply. Each issue has a handful of articles covering our main focus areas: Life, Career, Money, The World and Tech.
We know what you're wondering…
How do I get the goods?
There are a couple ways you can get access to all of the honest, thought-provoking (yet practical) stories we specialize in sharing here at The Reply. But it really all comes down to this:



Yep, that's right. Your #SquadGoals just got a whole lot more intense. Even T-Swift would be jealous. Let us give you a better sense of what we're talking about…
The Reply Squad is a little bit of this:
With a whole lot of this:
We don't wear a colour for any particular day of the week (we just wear whatever the fuck we feel like).
Who is part of the Squad?
The people who make up our Squad are called Repliers. And they're all about carving their own paths.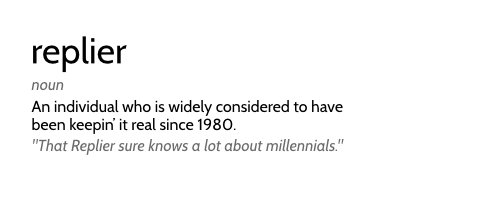 Repliers get notified each month when we release a new issue (kind of like when you used to get magazines in the mail — remember how cool that was?). But it's not just about pickin' up what we're puttin' down every month. After all, Repliers have an opinion and we want you to have your say. So we encourage you to leave a comment on the posts that give you all the feels, and definitely the ones that make you think. You can also join the conversation on Facebook, Twitter and Instagram. We'll be sharing even more good shit than what you get from the magazine issues, so you'll definitely want to follow us there.
What if I'm not ready to commit?
You know, you're really going to have to get over that at some point.
But if you're not ready to become a Replier quite yet, you can keep checking the website — we'll be updating it regularly with each new issue and article. Keep in mind, you won't know it's out until you remember to come back — and being millennial and all, we know you want to be ahead of the curve, so we're just trying to save you some heartache (because you'll be the last of all us cool cats to read everything). But we'll still let you sit with us.